5 Ways To Use Your Empty Wine Bottles
If there's a treasury of empties at your house, that's cool.  Here's 5 ways you can use your empty wine bottles!
Garden Lanterns
Why buy solar lights?  All you need are some Christmas lights, garden steaks and some empties.
Full tutorial @ More Organics
Citronella Candles
Even the nicest, most expensive citronella candles are ugly.  But some wine bottles are beautifully crafted and can help you put your neighbors citronella candles to shame.
Full tutorial @ Hello Glow
Privacy Wall
Tired of everyone in the neighborhood being able to see how much wine you actually drink on your patio?  Then build a privacy wall… Out of wine bottles.
Full tutorial @ Home Talk
Twine Wrapped Centre Piece
You know what makes your wedding look fancy?  Expensive decorations.  You know what makes it look personal, cute and kind of cool?  Decorations you and your bridal party took the time to hand make.
Full Tutorial @ Bride on A Budget
Bird Feeder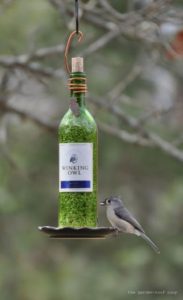 Give back to nature with this beautiful homemade bird feeder.
Full tutorial @ Garden Roof Coop