Canadian Doctor says the Man Cold is legit!
It started as a joke, a joke that then developed into an internet meme and even an official definition in Oxford's Dictionary.  Now a Canadian Doctor has confirmed that the man flu is legit.
Oxford's definition: "a cold or similar minor ailment as experienced by a man who is regarded as exaggerating the severity of the symptoms."
According to Global News Dr. Kyle Sue of Memorial University in Newfoundland conducted the study to clear the good name of men everywhere.  "Tired of being accused of overreacting, I searched the available evidence to determine whether men really experience worse symptoms and whether this could have any evolutionary basis"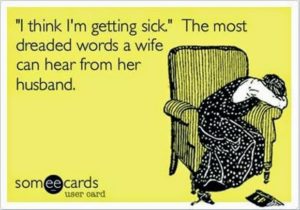 Sue arrived at his thesis after analyzing the scientific literature and unearthing several pieces of evidence suggesting that men may actually be more vulnerable to the flu.
For example, a 10-year observational study from the U.S. found that men had higher rates of flu-related deaths compared to women, while a study from Hong Kong found that adult men were more likely to be admitted to hospital due to flu.
Sue also cited studies which found women are more responsive to the flu vaccine than men, including one which found that high testosterone levels could weaken men's immune responses following flu vaccination.