Changes Announced for Charlottetown Christmas Festival, Tree Lighting & Christmas Parade
The Charlottetown Christmas Parade will now take place on Sunday, December 1, beginning at 5 p.m. The route will remain the same, and the traffic impacts for the parade will remain the same as originally announced but be in effect on December 1 instead of November 30. For information about the parade, visit: www.charlottetown.ca/parade.  You can view the parade route below.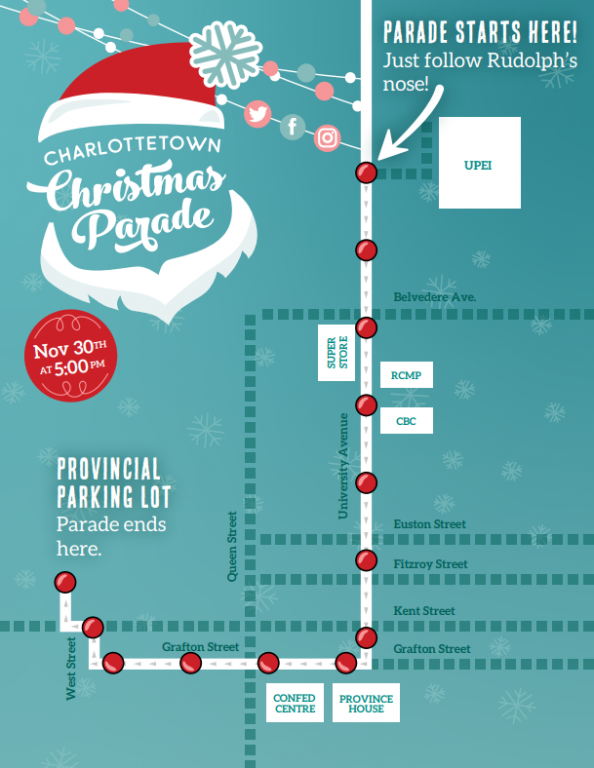 Charlottetown Christmas Festival & Wintertide Tree Lighting Changes
The City of Charlottetown and Discover Charlottetown are advising the public of the following changes for the upcoming Charlottetown Christmas Festival, Wintertide Tree Lighting and Christmas Parade. Due to impending weather, vendors participating in the open-air market, which takes place from Friday, November 29 until Sunday, December 1, will move indoors at the Confederation Court Mall. The following outdoor events will be moved to Victoria Row: Horse and wagon rides, Christmas tree garden, festive petting zoo, historic walking tour, and ice sculpting.
The Wintertide Tree Lighting that is scheduled for Friday, November 29 will also be moved indoors to the Confederation Court Mall at the Mall's signature Christmas tree. The candlelight portion of the event will be canceled, however, residents attending will be offered an LED candle upon arrival to the Confederation Court Mall. This event will begin at 6:30 p.m.
In order for the Charlottetown Christmas Festival and Wintertide events to take place, Richmond Street (Victoria Row) between Pownal Street and Great George Street, will be closed to all traffic, with no parking permitted from Friday, November 29 at 3 a.m. until Sunday, December 1 at 11 p.m.
All T3 routes will revert back to their original scheduled pick-up locations, including County line buses.
For more information about the Wintertide Holiday Festival, visit the Events and Initiative tab at www.charlottetown.ca or www.discovercharlottetown.com.