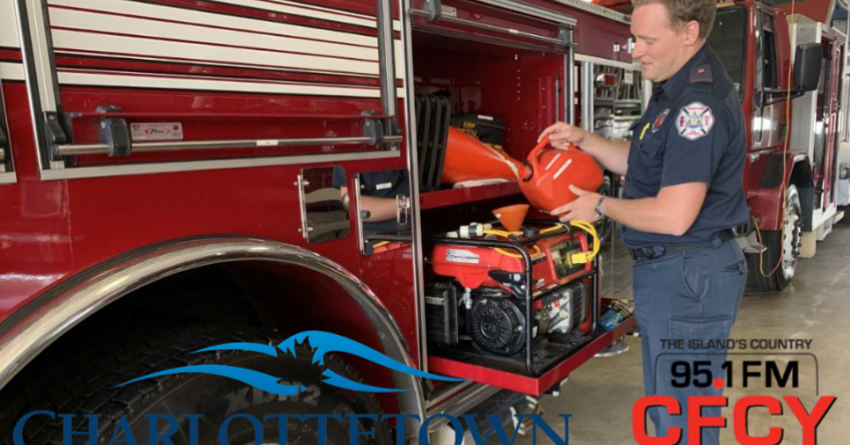 City of Charlottetown Recommends a 72 Hour Emergency Kit
The City of Charlottetown Emergency Measures team would like to remind the public of the importance of having a 72-hour emergency preparedness plan. Emergencies can happen at any time, and citizens should be ready to care for themselves and their family for at least 72 hours.
Hurricane Dorian has strengthened and is considered a category 3 storm currently. Based on the latest forecast guidance, Environment Canada has stated that severe winds and rainfall will have major impacts for PEI with most regions in the Maritimes experiencing some tropical storm force winds and in excess of 50 millimetres of rain.
Regardless of whether the storm hits hard this weekend, it's important the public is prepared for emergencies year-round, such as hurricanes, flooding, or other events that could cut off electricity or other utilities. It is also good to be prepared for potential delays in emergency response or access to supplies.
The public is encouraged to prepare a 72-hour emergency kit and share the location of the kit with everyone in their home or business. Include items such as:
• a supply of water for between three and seven days;
• non-perishable food;
• a stocked First Aid kit;
• prescription and non-prescription medicines;
• formula, diapers and other baby supplies, if needed;
• a manual can opener;
• toiletries;
• battery-powered radios and flashlights with extra batteries;
• blankets and a change of clothing for each household member (in case of evacuation);
• candles and matches or a lighter;
• cash;
• and, a charged cell phone.
Citizens are responsible for ensuring they are able to receive updates from emergency personnel, Utility crews and the municipality in an emergency. To ensure you are still able to receive updates during this time, have a device that can receive updates without an electricity source, such as a battery or hand crank powered radio. Citizens are encouraged to sign-up for emergency alerts through the free Charlottetown Alert System. The public can choose to receive emergency alerts via SMS (text message), email or by phone. Sign up by visiting: www.charlottetown.ca and clicking on 'Alert System' under the Resident Services section. (Direct link: https://member.everbridge.net/index/892807736726276#/signup). If sign-up assistance or help accessing an existing account is required, please contact 902-629-4000, between the hours of 8 a.m. to 4 p.m., Monday – Friday.
The City's Public Works Department is prepping for the potential storm this weekend and asks that anyone who notices clogged catch basins contact the department at 902-894-5208 (902-629-6916 after business hours) so that it can be addressed in advance of the rain. For emergency contacts and departmental contacts (during and after business hours), visit: https://www.charlottetown.ca/contact_us
The public is also encouraged to secure anything that can blow around. Lawn chairs, barbeques, toys, construction material, and other debris can be damaged and/or become dangerous projectiles in high winds. For more suggestions on preparing for emergencies, visit: www.getprepared.gc.ca or https://www.princeedwardisland.ca/en/topic/emergencies-and-public-safety