Dean Brody has the most Canadian response ever to haters…
CCMA award winner Dean Brody came under fire this week for not making a political statement that many people felt was too political to begin with… It all started when Brody posted pic with Prime Minister Justin Trudeau.
Despite acknowledging that Trudeau is a polarizing figure out West, Brody also said that he believes Trudeau cares about Canadians.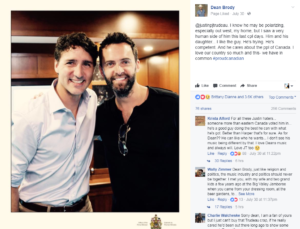 Of course this only fueled the fire for the legions of anti-Trudeau Canadians who apparently also really like Dean Brody.
In total, Dean received over 300 comments which prompted him to make the most Canadian response ever.  He clarified that even though he doesn't agree with Trudeau he still thinks the PM cares about Canada.
He also suggested that the freedom that his fans have to burn his CD's or call him names is what he loves about Canada.