Leafs Fans… Meet Dart Guy.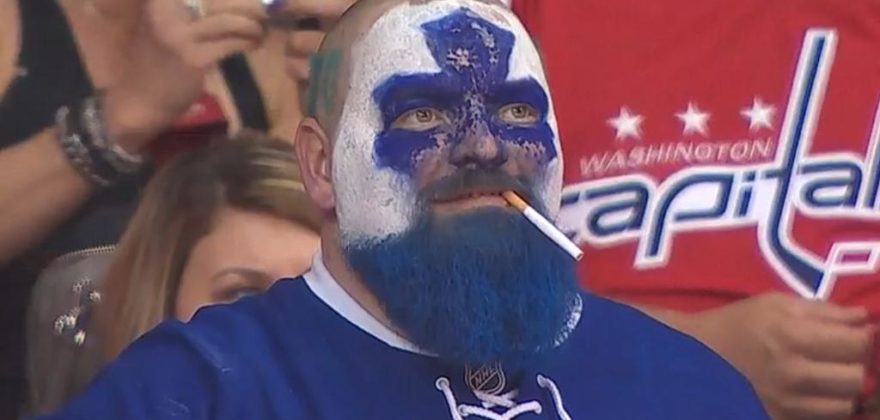 According to NHL.com, Leafs fans have a new hero.  No, it's not rookie sensation Auston Matthews.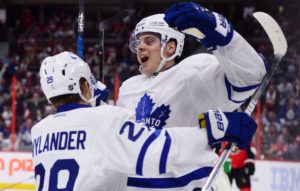 Or hometown rookie sensation Mitch Marner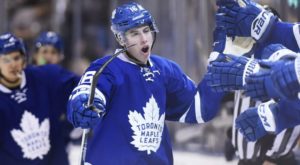 Instead it's a face paint wearing smoker known as Dart Guy.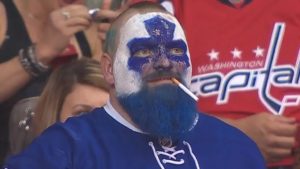 Also known as Jason Maslakow, the hardcore Leafs fan travelled to Washington for Game 2 of Toronto's first round playoff series against the Capitals.  That's when fans and of course twitter fell in love with the man now known, as Dart Guy.
The things we do for our team. #BecauseItsTheCup #StanleyCup pic.twitter.com/JxtXcy4Bqv

— NHL (@NHL) April 16, 2017
But it's not just the internet that loves the silliness of Dart Guy, so to do the Toronto Maple Leafs as they've formally invited him to Game 3.  He's also, already received an invite to Game 4.  Some speculate the next step will be adding Dart Guy's likeness to Legends Row.
Can't believe the @MapleLeafs updated Legends Row already pic.twitter.com/PLmUmLYQYe

— Chemmy (@felixpotvin) April 16, 2017