LISTEN: 95 to 1 Winner & info on our NEW contest!
This morning we picked a winner for our 95 to 1 Contest!  There was a little drama as the first person drawn missed their 9 minutes and 51 seconds to call in.  However, Alyssa O'Shea called in with plenty of time to spare!
Thanks again to everybody who registered and qualified for 95 to 1!  What's next?  A new contest, These 3 Words!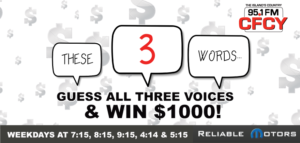 Click here for all the details on how to win with These 3 Words!