PEI school hands out old "Healthy Snacks" recipe guide… The recipes are hilarious.
A Clyde River mom was a little surprised to see the material her child brought from home school this week.  The literature was a booklet titled "Healthy High Calorie Snack Recipes" and even had a PEI Department of Health logo on it.
The reading material is clearly decades old and the Department of Education told the CBC, the material not intended to be handed out to student and this was simply an isolated incident.
Nadine Staaf, who shared the image on her Facebook account reached out to us through private message to share some of the "healthy recipes" the booklet contained.  Here are some of the highlights:
Chocolate Surprise Drink
In case the image isn't loading, this recipe contains 2 tbsp of chocolate syrup, a 1/2 cup of ice cream and 2 tbsp of corn oil.
Super Shake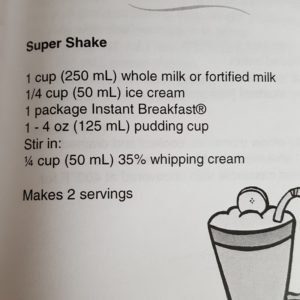 Once again ice cream makes an appearance in the healthy recipes guide…  This time just a 1/4 cup although the recipe also calls for a 125 mL pudding cup, a 1/4 cup of whipping cream and 1 package of instant breakfast.
Milkshake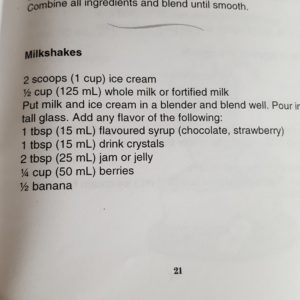 This one contains some actual fruit!  A 1/4 cup of berries & 1/2 a banana… Unfortunately it also contains 1 cup of ice cream, 1 tbsp of flavoured syrup, 1 tbsp of drink crystals and 2 tbsp of jam or jelly.
Bone Health
Nadine also tells us an additional booklet on bone health was sent home.  She says it contained little more than fear based stats about bone health.  It also suggested that 3 cups of coffee a day a safe amount for kids to drink.