SURPRISE! PEI gas prices go up 4 cpl
Unscheduled Price Adjustments
The Island Regulatory and Appeals Commission approved the following increases in petroleum prices in an unscheduled price adjustment, effective 12:01 a.m., Thursday, February 21,2019:
Gasoline prices will increase by 4.0 cents per litre (cpl);
Furnace and stove oil prices will increase by 2.3 cpl; and
Diesel prices will increase by 1.0 cpl.
New Fuel Prices
Including adjustments for taxes, pump prices for regular unleaded gasoline at self-serve outlets will now range from 104.0 cpl to 105.1 cpl. Pump prices for diesel will now range from 127.4 cpl to 128.6 cpl. The maximum price for furnace oil is now 95.6 cpl, plus tax.
Blame New York
The price of petroleum on the New York Mercantile Exchange has increased substantially over the past five days. Reduced supply from two major refineries in the United States has driven up the price.
Price Breakdown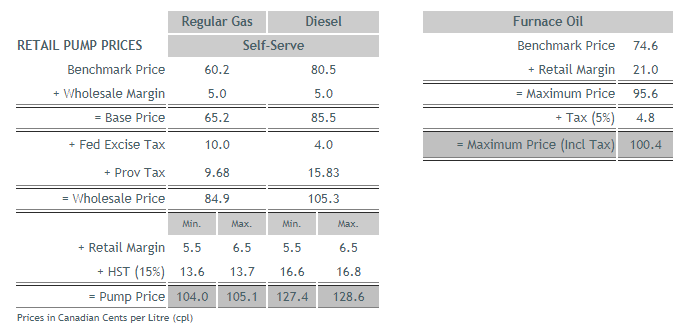 Market Comparisons
PEI – 104.0 – 105.1 cpl
Moncton – 104.0 cpl
Halifax –  104.2 cpl
Montreal – 118.5 cpl
Toronto – 109.2 cpl
National Average – 113.1 cpl
*** all prices based on IRAC press release