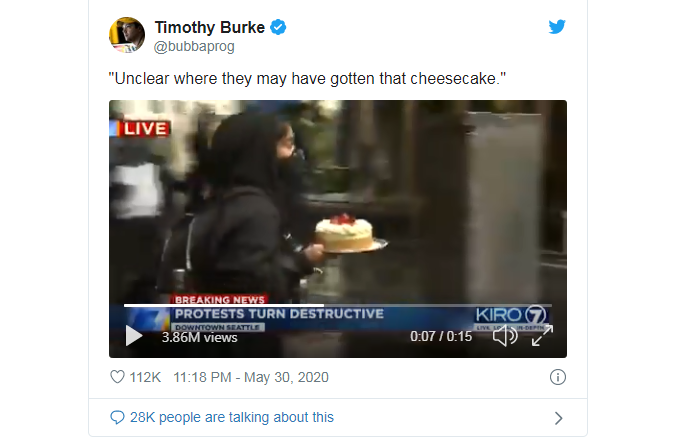 Woman Loots A Whole Cheesecake During Protests
In a rare moment of levity during a weekend of protests, riots, and looting, a Seattle news station captured video of one woman who appeared to have looted The Cheesecake Factory.  Seattle police said the crowd turned violent, throwing bottles, setting fires, breaking windows and looting businesses in the downtown area. Rioters, many wearing masks, looted and vandalized stores, including Nordstrom and Old Navy. Windows of the Cheesecake Factory were also smashed, and people were seen throwing bottles of alcohol outside.
The news team recorded footage of the lone woman wearing a coronavirus-style mask and calmly walking away from the restaurant carrying an entire cheesecake on a serving tray.  See the video below.
"Unclear where they may have gotten that cheesecake." pic.twitter.com/mLfSJvMGvZ

— Timothy Burke (@bubbaprog) May 31, 2020
In Colorado a more peaceful protest happened which included a much more dramatic moment.  Protesters laid down and quoted George Floyd by shouting "I can't breathe!"
Incredible scene at Colorado's Capitol right now. Thousands of protesters are lying face down with their hands behind their backs chanting "I can't breathe." They're doing this for 9 mins. #copolitics #denverprotest #GeorgeFloyd pic.twitter.com/PaABvp8ZoM

— Colorado Times Recorder (@COTimesRecorder) May 30, 2020